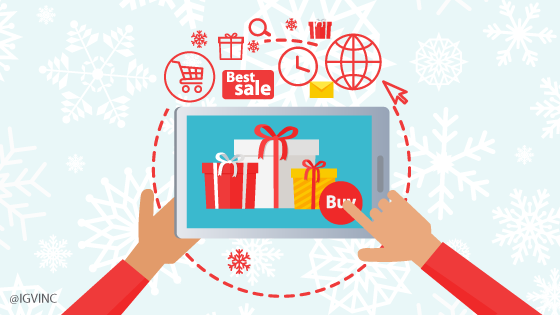 The holiday season will be here before we know it, and with it comes shopping. Lots of shopping. Like the kind of shopping that could almost qualify as a competitive sport. Not to mention, consumer spending during this year's holiday season is expected to increase as much as 4.5 percent.  And e-commerce sales are expected to jump 18 to 21 percent. What does that all mean exactly? Deloitte expects holiday shoppers to spend more than $1 trillion between November and January. To give you an idea of how big that is, last year in 2016, holiday retail sales totaled in at $658.2 billion.
That's one huge chunk of change. I'd like one business owner to tell me they don't want a slice of that figgy pudding.
So, what can your business do to cash in on the holiday season? I'm so glad you asked. But first, here's a list of all the holidays coming up that can earn your business some serious cash this season:
Black Friday – November 24
Small Business Saturday – November 25
Cyber Monday – November 27
All of the holidays everyone is shopping for – December
New Years – January 1, 2018
Your Holiday Marketing Tips
Preparation is key
And that means if you haven't started preparing for the holiday season, you should probably start. No, you should definitely start. If the onslaught of frenzied shoppers isn't enough, a recent survey from the National Retail Federation states that 54% of shoppers begin researching products and sales in October or earlier. This means they're looking at recommendations from retailers and relying on product reviews.
Read one of our earlier blog posts for a more detailed approach to planning your holiday marketing.
Send Limited-Time offers
By nature, the holiday season is limited-time. And by nature of the sales, people are ready and willing to make on-the-spot purchases. If you're having a sale for an extended period of days, you can highlight certain products or services with a limited-time offer/ coupon that can only be used or claimed during one specific day of your sale. The most effective way to let your customers know of these limited time offers are by sending a simple promotional email. The urgency of a "sale within a sale" will drive foot traffic/ clicks because nobody likes FOMO (fear of missing out).
Send Holiday Cards
One of the best selling points for your business is to appreciate the customers you already have and thank them for their business this year. When customers feel appreciated, they spend more money. And the holidays are the perfect time to tie the whole year up with a bow. If your budget allows it, snail mail is always the best. You can also send a holiday video or e-card to your email list as well!
Return Policy Transparency
Make sure it's clear. Make sure it's easy. If you ship your items out, offer free return shipping. If they purchase in-store, offer a full refund instead of in-store credit. Consumers expect a generous and transparent return policy, and by neglecting this, you could lose a ton of sales.
Sponsor a local holiday event
This can be huge for small local businesses to get exposure to more people in your area who would love to shop with you. Research local holiday festivals, parades, or party to see if they accept sponsors.
Host a Secret sale (online or in-store)
People love being in on a secret. Reward your most valued customers and/or email list by hosting a secret sale exclusive only to them. Offer certain products or services to them before they go on sale for everyone else, or even with a little bit of an extra discount. Or maybe you want to offer those prices exclusive to them.
Holiday Blog Campaign
If your business has a blog, consider creating themed blog posts featuring your products. Spin them in the way of providing gift ideas, recipes, how to host the perfect holiday party, etc. The point is to show how your products can work into your reader's everyday life.
If you don't have a blog, no problem! Chances are, there are plenty of relevant bloggers in your niche and community that write holiday gift guides. Reach out to the bloggers with a sample of your products and services and ask for a spotlight on their blog!
Exclusive Downloadable Bonuses
If you're primarily B2B, you could offer exclusive downloads you would usually charge for as a bonus for signing up with you during the holiday season.
Start gathering reviews
I'm not kidding. Earlier I mentioned that shoppers are starting their research now and relying on reviews to help them. That same survey said that 96% of shoppers read reviews specific to the businesses site. So those first-party reviews your business gather (these are reviews that live on your website, not on Google, Yelp, etc.) are super important during the holiday season. The more recent the reviews the better since most people don't really consider anything older than three months relevant enough.
We've got a great system here at IGV for review generation and local search engine optimization all in one, so check it out here to learn more.
Even More Holiday Advertising Tips
Check out this great infographic from Strike Social packed with even more tips to advertise your business during the holidays!
Let's "Wrap" This Up
Those are all just a few ways your business can amp up its holiday marketing for 2017. The possibilities are really endless. Hopefully we provided you with some ideas to get you started. And really, get started – your customers are starting to research you now!
SaveSave