Do you have a digital advertising campaign in place? Or do you make use of search engine optimization? Where do visitors land when they click on the link to go to your website? A landing page is a single web page created to convert people who interact with an advertisement, email, or search engine listing. A landing page is an extension of your ad or search engine listing. It is the next step someone would go to if they are interested.  
The goal of a landing page is to convert that interest into a lead or sale. The person clicked on the link with curiosity, but you must act on that with a landing page that converts them to do more. Let's discuss 5 elements that make up a high converting landing page.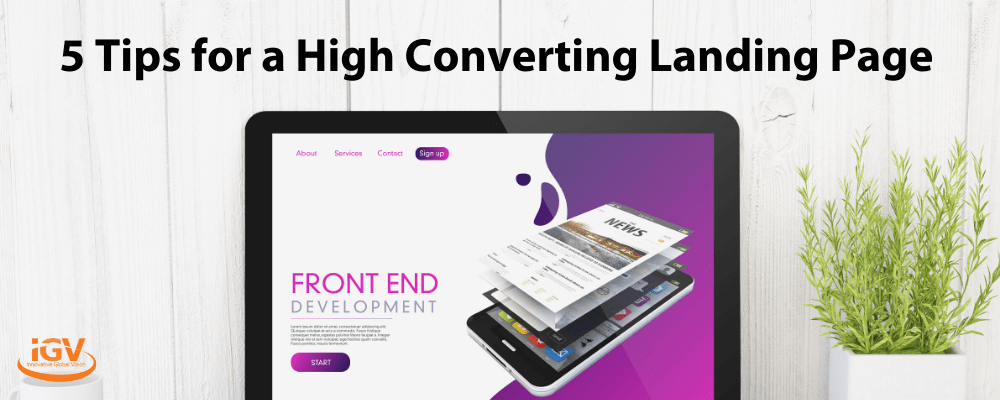 Captivate with Catchy Headlines
The headline is the first thing someone will read on your landing page. Does it demand their attention and prompt them to keep reading? You can catch their attention by focusing the headline on the customer. What problems are they facing? What do they get out of doing business with you or signing up for your email list?  
For example, instead of the wording "Sign-Up for Our Email List," switch the focus on customers' benefits. You could say: "Get 20% OFF When You Sign-up for Email" or even leave it as "Get 20% OFF". The difference between these two headlines is that the latter powerfully communicates the customer's wants or needs.  
Do not let this type of wording stop at the headline. Throughout the landing page, ensure your language resonates with the customers. It is all about them!  
Write a Concise Copy that Converts
Your landing page copy, or content, helps interested ones better understand how your company's pitch. Be sure to answer these questions in your copy: What are you offering? What problem do you solve for the customers? What makes your product or service better than competitors? The last question is also known as a unique selling point, in which you explain what makes your product or service a better choice than similar ones.  
Not only should you clearly answer those three questions, but also keep your answers concise. Bombarding your potential client with too much information can overwhelm them. A long copy can result in high bounce rates, with people clicking out of the webpage right away. If you want the customer to act quickly, make sure they can make their decision in a timely matter with a concise copy for your high converting landing page!  
Reduce Landing Page Frustration With One Action
How many call to actions should be on a landing page? Simple, one call to action. Too many options decrease the chances of someone taking action at all. The visitor should be clear on what they need to next. Your call-to-action should align with your end goal as well. By placing a great focus on one preferred task, you can improve conversion on the landing page.  
To emphasize your call-to-action make sure it is a button. With Constant Contact Landing Page creator, you can easily set the main call-to-action button to whatever link you need. A button style will ensure the preferred action is not missed and visually expresses what the web visitor should do next. Additionally, make sure to connect your call-to-action to what the customers receive. Remember the headline "Get 20% OFF When You Sign-up for Email"? This headline clearly explains how the customers can get the deal they want.  
B
uild Trust with Your Prospects
Some potential clients will only need to see your unique selling point to go through to the next steps. Others will need more convincing. Therefore, you must back up your claim or offer with evidence and social proof. This may include examples of your work, testimonials, statistics, or reviews.  
Take the fact that Landing pages that have social proof convert 1.1% better than those without. Substantial evidence about the quality of your brand, product, and services can be more effective than any fancy marketing copy. You can establish trust and credibility with potential customers.  
High converting landing pages often place the call-to-action button twice on the webpage. Once right after the unique selling point copy and secondly after some content that builds credibility. As web visitors scroll through the landing page, they are reminded of what they need to do next.  
Establish Brand Consistency With Landing Page Design
A landing page should reflect your brand — including colors, logos, fonts, and overall style of your full website and company. An on-brand web design will promote consistency. 
To prevent distraction from your primary call-to-action, make your landing page with a linear layout. Keep the design simple and make effective use of images to support your message.  
You can use a tool like Constant Contact to create neat landing pages that turn visitors into subscribers and customers. The Landing Page creator allows you to choose from two different landing pages: Lead Generation and Shoppable Landing Pages. The drag-and-drop editing will also help you place elements without much effort. 
If you need help getting started with Constant Contact or building your landing page, you can reach out to us. As a Constant Contact Partner, we are happy to help you create a beautiful, high-converting landing page!  
How do you make a landing page that converts? 
In review, the key elements to a high converting landing page include: 
A Customer-Focused Captivating Headline

One strong call to action

A concise copy that converts

Social proof to build trust


An appealing on-brand design 
Whether your goal is to build your email list, increase sales, or get event signups, these essential elements will assist your landing page in doing its job!