Everyone knows that with the start of a New Year, it's a good idea to make a New Year's resolution. Here are some ideas of what you can do to help clean the slate for your company's marketing department this year.
1. Spring clean you Mailing List(s):
Nobody enjoys spending resources on something in vain. If your company sends out emails to at least one emailing list, then you know what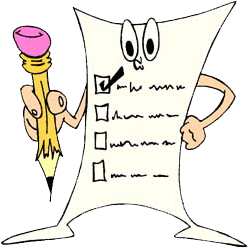 a pain bounced emails can be. Did you know that it's possible to get your emails block if your bounce back rate gets too high? This problem can be fixed by making sure that you do some spring cleaning this year on your email list(s) and make sure that any email addresses that are invalid or that have bounced emails are removed to make sure that you're not spending time and money on email addresses  that are bad and won't help you reach your goals.

Using Constant Contact for email marketing makes this step simple and painless.
Go to Contacts > Manage Bounces.
Select the email name of your last email from the drop-down menu.
Click the check box next to Non-existent address in your bounce category list.
Click the Do Not Mail button.
2. Get More Social:
Is your company suffering from Antisocial Behavior? Some of the symptoms include not having a Facebook, Twitter, or blog. With a new year comes new ways of re-inventing you company.  Why not break away from the Antisocial Behavior and join the social media craze. It will allow you to get your name out to the public and help build links to your site to build up your ranking in search engines. The best part of this entire venture is that…. IT'S FREE!!!
3. Plan Your Sales Schedule:
"He who fails to plan, plans to fail" don't plan to fail with marketing this year. Make sure you put together a plan of attack. It never hurts to be prepared and maybe take the time to pick the brains of your customers to see what they need out of their (**Your Industry Here**).  Planning ahead can get you a head of your competition.
4. Become Knowledgeable on a New Subject:
If you're reading this blog article, pat yourself on the back. You're already on your way to becoming more knowledgeable! Good for you!! With working knowledge of almost anything, you might be able to improve your company in ways you never dreamed of. Learn how to network and watch your sales soar, broadening your knowledge of your industry could help you to broaden your company's service base.