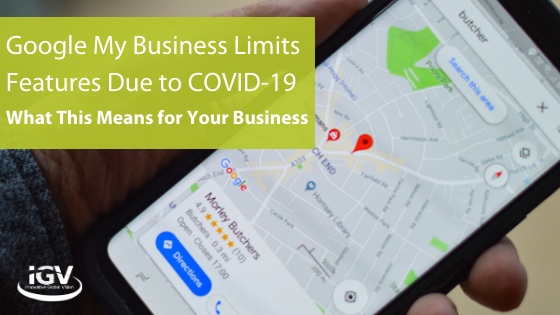 The Coronavirus outbreak continues to cause companies around the world to change their daily operation to protect employees and customers. Google My Business suspended and limited features due to COVID-19. Google My Business in a statement explained the update:
"During the unprecedented COVID-19 situation, we are taking steps to protect the health of our team members and reduce the need for people to come into our offices. As a result, there may be some temporary limitations and delays in support as we prioritize critical services."
For small businesses, these changes to Google My Business features will affect how they communicate with their customers and those searching for the local shop.
What are the temporary limitations?
Reviews and review replies are disabled. If a new review or response is submitted, it will not be publicly posted at this time.
The Q&A section of GMB profiles has been removed. Any existing questions and answers are not visible.
Business information edits are delayed. If you make updates to your listing on Google Search or Maps like for description, hours and locations, expect some time before changes are published. The GMB team is prioritizing reviewal for critical health-related businesses. New listings, claims, and verifications will also be delayed.
What this means for your business and what you should do.
If store hours and location change, you can't depend on Google listings to provide accurate information to your customers. You need to communicate with your customers via website, social media, and email marketing.
On your website, could you make a simple change to the home page with updated information about your business response to the outbreak? On social media, provide updates in your Facebook listing and create posts to share. You can contact leads and past customers with emails. Send an email to keep your customers informed of changes and promotions. Use social media to grow your email list by inviting your followers to join the list.
Use Google posts. You can also use the Google Post feature to communicate updates in business operations. The Google posts show up with your local listing; this way, searchers can see relevant changes.
During this crisis, small businesses must maintain good communication with their customers and the local community. Make sure they know the latest updates in business operations. Stay resilient as a small business by focusing on what you can do, not what you cannot. For more tips and experiences of how to survive and adapt during the COVID-19 pandemic, watch our recent Marketing Minute Live Sessions on Facebook. New live sessions air every Monday at 3:00PM EST!