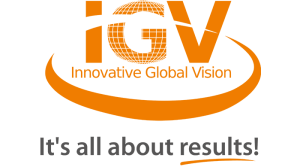 Macedonia, OH—October 4, 2021—Innovative Global Vision (IGV) was honored as the recipient of the 2021 National Sales & Marketing Executives (NSME) Akron/Canton™ Achievements in Excellence Award™.  Karen Leonard, chief marketing strategist for IGV, accepted the award during the gala event on September 30.
The NSME Achievements in Excellence awards recognize the best practitioners in the sales and marketing profession. These honorees have demonstrated the highest levels of professionalism during their careers in sales and marketing. Winners are selected by NSME leaders based on nominations from local professionals. Criteria include professional experience and demonstrate performance, as well as community and civic involvement.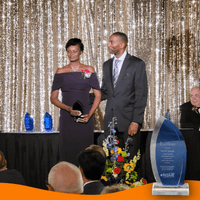 In accepting the award, Leonard said: "I am honored and thrilled to be recognized for the passion and dedication of the IGV Team and what we have accomplished during a challenging time this last year. Building on this wonderful recognition, we will continue to provide excellence in service to our clients and the community."
Leonard is a professional speaker, social media and email marketing trainer, and workshop facilitator specializing in marketing and website topics. Karen is the co-founder and chief marketing strategist of IGV, with offices in Ohio and Ontario, Canada specializing in website design, hosting, and digital marketing. IGV is celebrating 20 years of service providing strategic digital solutions for clients worldwide.
Leonard has worked with numerous brands ranging from startups to fortune 500 organizations, including NFL teams such as the Cleveland Browns, New Orleans Saints, Baltimore Ravens, and Arizona Cardinals. With over 20 years of experience in the marketing and IT field, she has a passion for helping small businesses grow. She works closely with business owners and marketing professionals to increase visibility and profits through their website and build more profound and profitable relationships using social media, email marketing, video, SEO, and reputation management.
IGV is very involved in their vision and passion to help the community with providing internships for Northeast Ohio students and supporting philanthropic activities to assist women in business. IGV also actively supports the Summit County Children Services for the last five years by gathering school supplies for children.
Innovative Global Vision, Inc.
Located in Macedonia and serving clients in Akron and nationwide and throughout Canada, Innovative Global Vision is a website design and digital marketing company that specializes in website development, design, hosting, and maintenance. Its step-by-step process includes strategic website planning and responsive website development.
By implementing best practices in its coding, Innovative Global Vision creates secure websites optimized for user experience and interactivity. Its development includes META optimization for better SEO and uses a user-friendly content management system that allows clients to update and maintain their sites.
##
For media inquiries, contact Nancy Valent, nancy@NMVstrategies.com, 216-513-8740