Apple's iOS update is available. One of the main concerns is that with this iOS update Facebook and Instagram apps will now have to ask permission to track private user data. Take, for example, ads that show up for a specific brand whose website you were just on. These personalized ads were possible thanks to Facebook's off-app tracking. As a business, you may use this tracking to show retargeting ads to website visitors or measure your campaign performance.
Understanding this major update can get overwhelming. Let's focus on two critical questions. How will your ads and reporting be affected? What should your business do next?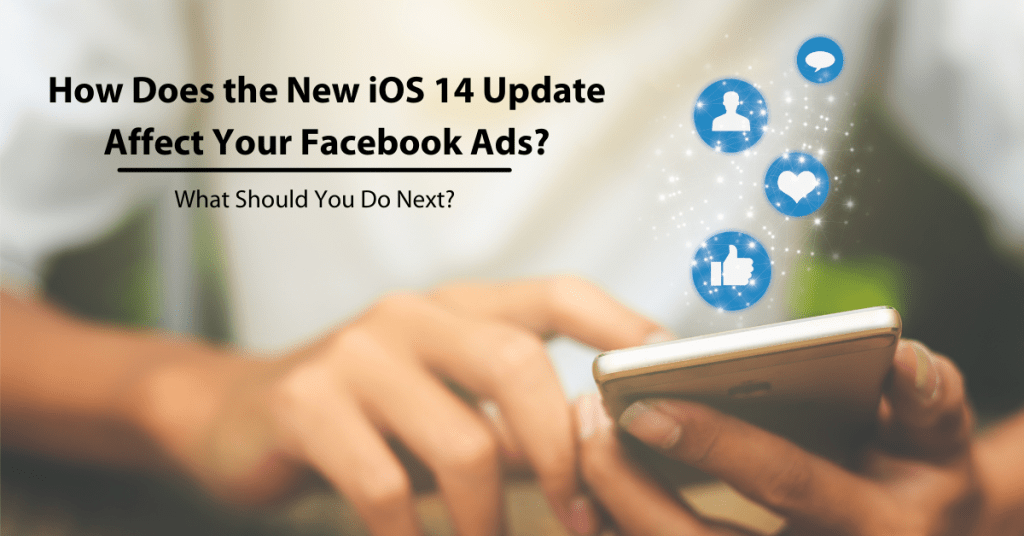 How will your Facebook ads and reporting be affected by the iOS Update?
With the iOS update Facebook changes, the goal was to improve user privacy. Apps have to ask if they can record the individual user's activity and data. Many users already see the Opt-in Notifications for some apps. Without permission from the user, apps like Facebook and Instagram cannot collect data about them across apps.
What does this mean for businesses that use Facebook Ads? In short, limited data could make running ads inconvenient for advertising.
A challenge across the board is delayed reporting. Real-time reporting will not be supported, and data may be delayed up to 3 days. You'll have to wait longer before reviewing the results of your campaign.
But to fully answer that question, we first need to know: what are you running ads for? Are you trying to increase app downloads or offline purchases? If so, you will undergo the most drastic changes in your ad campaign experience. For example, if you are running an app install campaign, your conversion tracking, the quantity, and the type of ads you can run are limited.
Do you use a Facebook Pixel to track the activity on your website? When it comes to tracking website conversions, delivery and action breakdowns, such as age, gender, region, and placement will not be supported. For example, you can no longer assess which age group made the most purchases from your ad campaign.
Facebook has released the Aggregated Event Management tool to counter tracking and attribution limitations. Facebook can still track conversions for opted-out users but can only track 8 conversion events per domain. A conversion event is an action a user takes on your website, like if they click on a link on your homepage and view a specific blog post on your website. With the Aggregated Event Management tool, you are limited to tracking 8 events.
Do you use lookalike audiences for Facebook campaigns? If so, you will experience more difficulty reaching your ideal audience. You can not create a lookalike audience based on your website visitors to reach more people interested in your company.
What Should You Do Next?
As more people, opt-out of tracking for iOS update Facebook on devices, ad personalization, and performance reporting will be limited for both app and web conversion events.
If you plan to continue to use website tracking like conversion events or Pixel Custom audiences, you must Verify Your Domain. Also, prioritize which 8 website events you will track. Which actions on your website are most important to record?
Establish alternatives to collect data from your customers. Of course, this will be data they give willingly. Do you have email list-building strategies in place? Email addresses can be uploaded to Facebook to generate custom audiences for retargeting purposes. Do you have a contact management system to manage your customers? It would be best if you had ways to stay in contact with your audience on your own terms and multiple ways to stay in touch.
You will need to find new ways to measure the success of your Facebook or Instagram ads. For example, during checkout on your website, you can ask, "How Did You Find Us?" You may also send out a survey to recent customers asking how they found out about your business. These methods will be crucial for those who are tracking offline conversions.
If you need help verifying your Domain, creating website conversion events, or with setting up email marketing contact us today for a marketing consultation for extra help.
As Internet privacy and data collection laws progress, marketers must adapt the way they advertise to the public online.