Greater Circle Living
Website Redesign
Redesigned an outdated website, into a modern and well organized structure.
Custom Design | WordPress | Website Security & Maintenance
Custom Design
WordPress
Website Security & Maintenance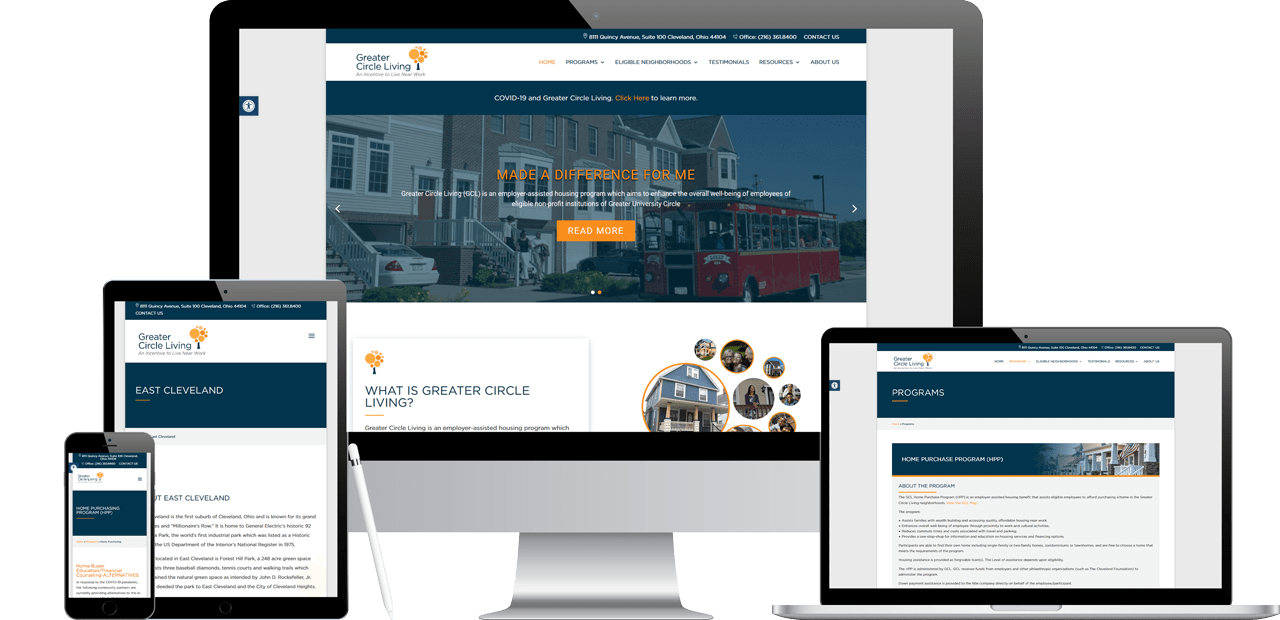 Business Type: Housing Assisted Living, Public Services
About Greater Circle Living
Greater Circle Living is an employer-assisted housing program which aims to enhance the overall well-being of employees of eligible non-profit institutions in Greater University Circle, by:
creating a positive relationship and goodwill between employers, employees and the community
providing a stable base of homeowners
offering valuable, targeted support for neighborhood revitalization
providing access to housing in neighborhoods near work
This all-encompassing housing incentive program fosters opportunities for economic inclusion of neighborhood residents, businesses and cultural institutions alike.
The Objective
GCL needed their website redesigned to match their new branding. They also wanted the simplify their website navigation and content so that applicants can clearly understand their programs and easily complete the application process.
The Result
The bounce rate for the website has reduced by 15%. The time website visitors are spending on the new site has increased by 24.5%
SEO – Statistical Results
The results speak for themselves, see how a redesign to Greater Circle Living's old website helped to generate greater results.
Release date: October, 2018
Increase in Page Sessions
Overall Website Load Time
(Increase)
Ready to get better results? IGV will work closely with you and your team to collaborate on an effective design that can help bring in new leads. To start, fill out the form below and someone will get in touch with you very soon. We look forward to bring you great success!
Browse our other successful projects and learn how Innovative Global Vision accomplishes successful design to bring our customers, new leads, conversions and improved turnovers. If you're ready to take the next steps fill out our form above or give us a call today!