Homewardbath
Website Design
Custom Design | WordPress | Website Security & Maintenance
Custom Design
WordPress
Website Security & Maintenance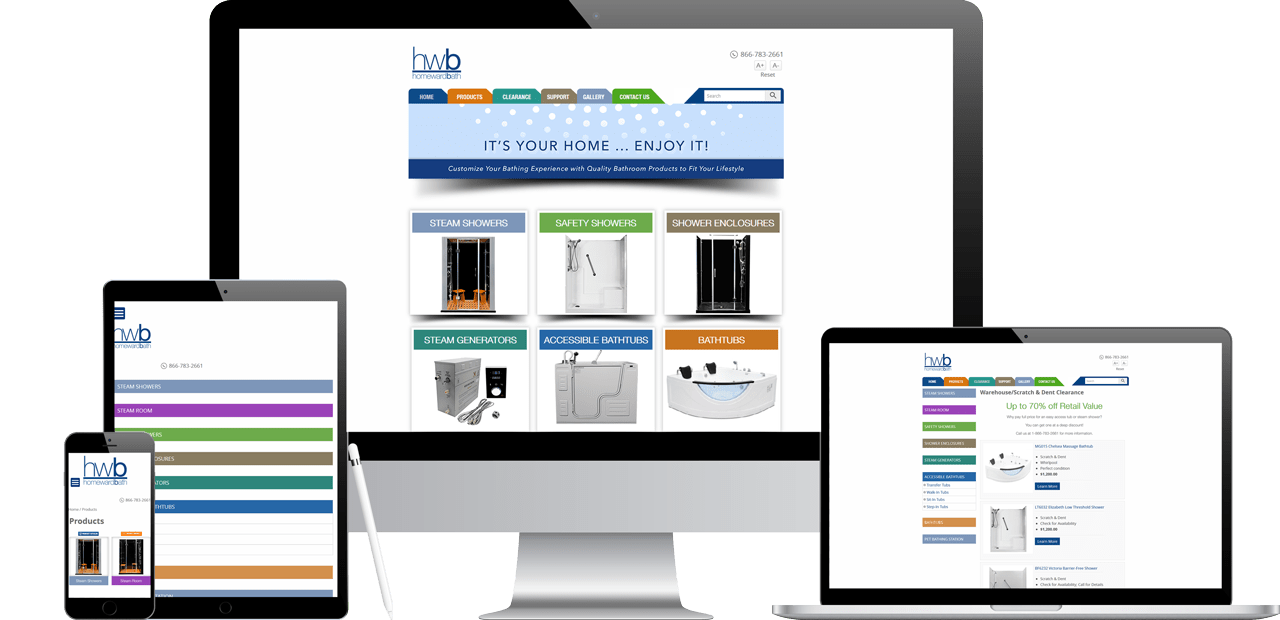 Business Type: Household Appliances, Sales
About Homewardbath
Their quality bathroom products are perfect for those who seek nothing less than the best bathroom products in the market today. Homewardbath bathroom products comprise of a list of bath tubs, air tubs, steam shower, massage tubs and more. Designed with extra safety measures to deliver an absolutely rejuvenating experience while bathing, their exclusive range of accessible quick drain bathtubs are for those who need special care during bathing. The state of the art Homewardbath design jet tubs are meant to give you a hot spring bathing experience.
The Objective
With growing success Homeward Bath pushed forward expanding their services and product line to a greater scale, selling not only Steam Showers but showers for assistance and animal care. In order to accommodate for this drastic change Homeward bath needed a website that would help dive interest and ultimately reach a larger audience and bring in sales leads. With a set objective, IGV worked closely with Homeward Bath to fine tune the websites presence and provide a insightful experience to all visitors to their website.
Ready to get better results? IGV will work closely with you and your team to collaborate on an effective design that can help bring in new leads. To start, fill out the form below and someone will get in touch with you very soon. We look forward to bring you great success!
Browse our other successful projects and learn how Innovative Global Vision accomplishes successful design to bring our customers, new leads, conversions and improved turnovers. If you're ready to take the next steps fill out our form above or give us a call today!