GET FOUND ON GOOGLE
How do you make sure that your business' website is found among the infinite results on a Google search? Implement a Search Engine Optimization (SEO) strategy that puts you on the first page.

---
Most web traffic comes from three major search engines

Search engine optimization (SEO) refers to techniques used to help your website rank highly on search engines, like Google, sending the right customers to your website. The higher your website ranks on the search results page, the more traffic your website attracts and ultimately increases sales for your business. In other words, SEO gives your business the organic traffic it needs to thrive in the online environment.
Read more
The first page of results is the prime real estate you want to land. Page one of the search engine results contain over 90% of Google's user traffic – particularly the top three spots.
Getting your page to rank highly requires careful research and consideration about what keywords your customers are looking for when they type words and phrases into the search bar. And that is where IGV will be able to help.
Achieving top rankings on Google and other search engines will help increase and continue to nourish the abundant source of organic traffic to your website.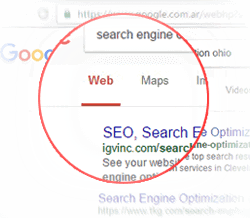 HOW IGV CAN HELP

We help our clients reach and keep that first page ranking. We'd love to discuss how we can help your business grow with an SEO strategy.

Monthly SEO Ranking & Activity Reports
.
Keyword Research & Strategy
.
Site Optimization
.
Content Maintenance
.
Link Building
.