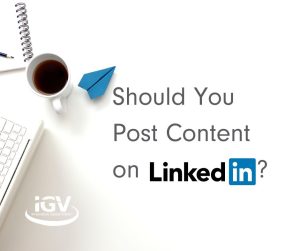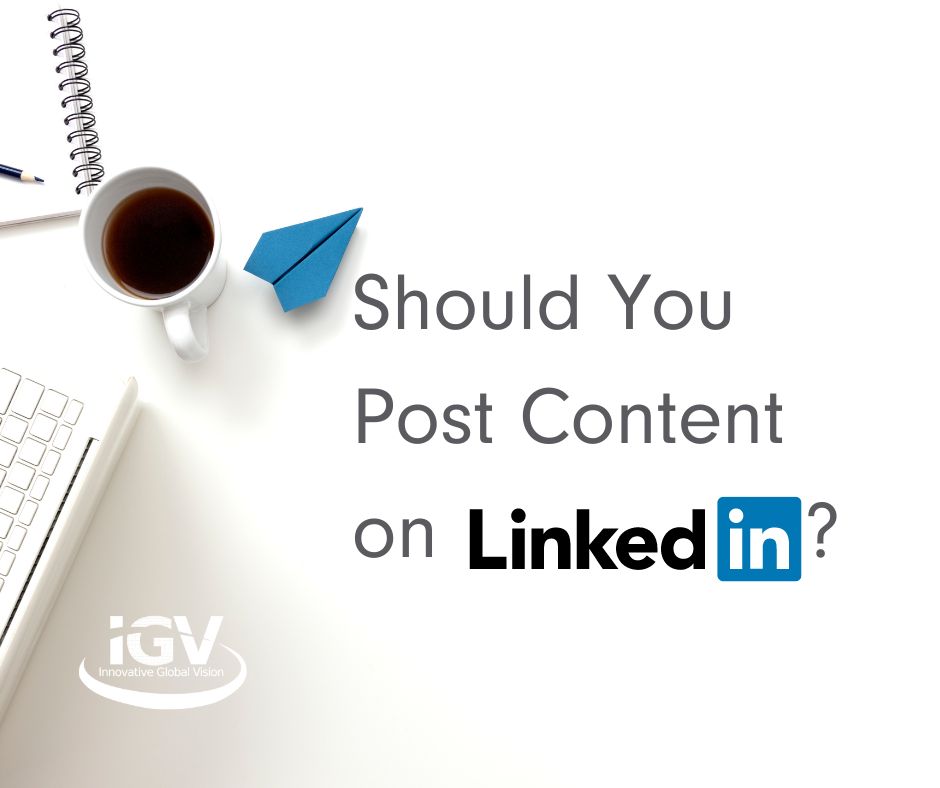 With over 830,000,000 members worldwide, LinkedIn is the most popular professional social networking website. It is an ideal platform for you to show your professional prowess. Your profile on LinkedIn can attract potential employers and prospects for your company. It allows potential employers to put a face to the name on a resume, or vet potential candidates. LinkedIn allows each user to build credibility and online behavior.  
LinkedIn's appeal is that it is easy to access (desktop webpage or smartphone application), and it is easy to use. If you can use Facebook, you can use LinkedIn. Like Facebook, adding content to your LinkedIn feed is a terrific way to share things with a larger audience.  
So, you have decided to take part, now what sort of content do you post? 
What Content Should You Post on LinkedIn?
As LinkedIn is a website for professionals- keep it professional! Always keep in mind that anything posted online exists even after you delete it. Before posting anything on LinkedIn you should ask yourself: Is this workplace appropriate? If it would not be acceptable in a work environment, then it is not acceptable content for LinkedIn. If you are unsure about content, seek advice before you post it. Here is a guide to what you should and should not post as content on your LinkedIn profile. 
 DO POST:
Things that are appropriate and relevant to your professional life

 

Tips, advice or information for other members

 

Personal matters, opinions, pictures and unapproved content

 

Professional celebrations

 

Academic achievements

 

Projects that have been approved by a superior

 

Collaborations

 

Pictures from work events

 

Congratulations, giving kudos or expressing gratitude

 

A lesson provoking conversation or experience

 

A story that reflects your or your associated company's core values

 
DON'T POST:
Profanity, inappropriate or sexual content

 

Projects have not been approved by a superior

 

Personal information like addresses and birth dates

 

False information, fake news, 'clickbait' or gossip

 

Pictures of your pets, family, and food

 

#OOTD (outfit of the day) pictures and selfies 

 

Unauthorized photos of other people 
Helpful Tips for Your LinkedIn Posts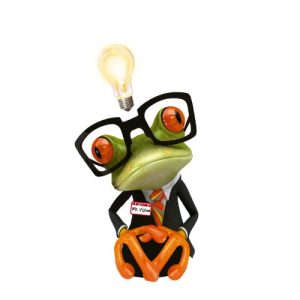 We know that this was a lot of information, but here are some other helpful tips for creating professional LinkedIn posts to optimize your profile.  
Consider using a browser extension such as

Grammarly

to make sure your grammar and spelling are correct

 

Add links to your work on other sites such as websites, blogs, portfolios, or other social media (note: this should not be a personal social media, but a business page)

 

Make use of hashtags; what sort of keywords are relevant

to your post that might be

searched by viewers to come across it?

 

Make use of the mention feature; if your post mentions another person or company, tag them with @ [insert name here]

 
What Should You Take Away?
There's no doubt that LinkedIn is the biggest professional networking site out there. Thus, you should take care in creating a profile and posting content on it. It's as easy to use as Facebook, and an asset to employers when researching you. Posting content on LinkedIn shows engagement in your career but be mindful of what kind of content you are posting. If you are not sure about a post, get a second opinion from a trustworthy person with wise judgment.   
Remember, you only want to post content that is relevant to your career and that is appropriate for the workplace. Save the booty, baby, puppy, and foodie pics for your personal Instagram. Don't share highly personal information such as your address or birthday. Never post a work project without the approval of your supervisor. LinkedIn should just used be for expanding your professional network and reputation- not ruining it. Finally, remember to always make sure you are being respectful, ethical and factual in your posts.   
Now go on, good luck, and happy networking! 
Additional Reading:
The Pros & Cons of LinkedIn – Innovative Global Vision (igvinc.com) 
How Can LinkedIn Help Me to Grow My Business – IGVINC 
Is LinkedIn Actually Becoming the Facebook for Professionals? And Other Host Topics – IGVINC 
Article written by:
Mars Verbeek 
Mars Saskia Katrina Verbeek | LinkedIn 

On average, 25 million LinkedIn profiles are viewed every day by businesses looking for individuals who may be future candidates for job openings at their company. LinkedIn is an effective platform for Business to Business networking especially when recruiters are trying to pinpoint the perfect candidate for certain positions in their company. LinkedIn is the largest professional networking social media platform for conducting background research and building relationships with individuals to network and discover potential customers. This article outlines to pros and cons associated with using LinkedIn
Pros
Networking Opportunities
LinkedIn is a great tool that gives business owners the ability to research potential clients for a company. LinkedIn builds strong networking opportunities for particular industries by making industry posts available for research, establishing credibility with prospects and a solid search technology for companies or individuals to narrow down options.
News Updates
LinkedIn organizes content from across LinkedIn and categorizes it into relevant industries to keep you updated on upcoming trends or big ideas in the news. LinkedIn allows you to link your accounts and blogs to share experiences and advice on topics that are important in your business or industry.
LinkedIn

Answers Section
LinkedIn allows individuals to engage with each other by having an answers section which allows individuals to ask questions to the public or to selected members of their personal network. Individuals can demonstrate their knowledge and skills by providing people with feedback on various questions related to their industry. The LinkedIn answers section allows people to share their expertise to help others.
Profile Updates
LinkedIn provides information about potential employee candidates by allowing you to view professional profiles of the individuals you may be seeking. For example, if you are in the IT industry and are actively seeking a new computer engineer, you can view profiles of individuals with relevant experience by doing keyword searches. Most individuals keep their profiles up to date with their most recent experience, and the profile can act as a virtual resume. This provides the company with a general idea of an individual's previous background and skill set to compare to the job description.
Cons
First Time Profile Setup
Any social media site takes time to grow, but LinkedIn, in particular, can become overwhelming with so many components involved. It can seem easy at first, but there are multiple requirements before creating a business page. To create the page, you must have a personal LinkedIn profile and the profile strength must be listed as Intermediate or All-Star. You will need to spend some time building your profile by familiarizing yourself with the site's features and making connections. It is very time-consuming in the beginning, and you will gradually notice each connection will bring you one step closer to growing your LinkedIn page.
Content Overload
LinkedIn is a great way to share articles or tips, but too much content can make your audience feel overwhelmed and lose interest in your LinkedIn page. For example, if a person is looking for a specific post on your page from a week ago and they cannot find it, they will find another artifice on a similar page because they feel frustrated. This can result in limited interactivity when compared to other social networking sites like Facebook or Twitter.
Overall, LinkedIn is specialized for Business to Business organizations, but it is a great tool to improve business development if you are looking for potential employees, advice or tips from different industry voices. LinkedIn can help differentiate your company from competitors and provide you with research on specific companies and individuals. It is a great resource to grow your network and industry expertise.