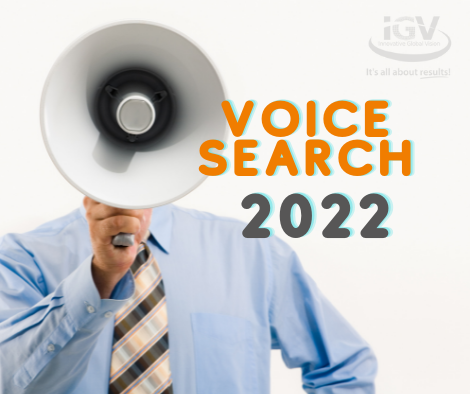 Voice search is not a brand-new technology for 2022. Yet, more people are utilizing their smart devices to help them find what they are looking for than ever before. Virtual assistants, provide the capability to perform voice searches on smart devices.  
When it comes to online shopping would it surprise you to know that half of all online shopping will use voice search this year? We expect that number to grow as people become more comfortable with using it. 
What makes Voice Search different from a Keyword Search?
In 2022, People no longer go to the yellow pages to lookup a phone number. That is also true for people trying to find products or service. More people are asking their smart devices to help them find what they are looking for. The key is that voice search users are asking questions or searching a phrase not a specific keyword. 
For instance, you do not ask your phone for "chocolate."  You might ask something like "How many calories in Chocolate." Or "What is the best rated chocolate company." People may also as for a type of chocolate or brand of chocolate.  
Voice search is a wonderful way to reach your target audience. The key is creating content that people are searching for. Notably, you want to be the solution the problem that someone has. As we enter 2022 more users are getting comfortable with voice search. We have the technology to get the answers we are looking for in the palm of our hands. Smart devices to find solutions to the everyday problems people have
Here are some examples of ways your company can utilize with voice searches. 
AMAZON ALEXA
Did you know that Alexa is one of the largest smart device providers in the world and owned by Amazon? Today, people use Alexa to control everything from their light switches and thermostats. Not only can Alexa can play music, it can access smart TVs, and provide valuable resources to users. People can search for anything from the comfort of their office or living room.  
Businesses are setting up a business listing on Alexa and providing valuable product and service information. There is nothing more valuable than being found for the right things when people are looking. Voice searches, like those offered through Alexa are becoming even more relevant today. We expect that trend to continue through 2022 and beyond.  
Set up your Alexa Business Listing HERE.  
When it comes to voice search Google is one of the leaders of the pack. Not to be outdone by Alexa, Google utilizes the power of search with smart home technology. Google smart devices bring the power of the Google to smart devices everywhere. Google Assistant is supported on more than 50,000 smart home devices.  
In 2022, Google Assistant is one of the most used virtual assistants according to 2021 stats. The latest information from Google Support reveals that it is compatible with more than 10,000 popular brands. That compatibility number is increasing by the day.   
In fact it was recently announced that Google will support the voice search capabilities of many other manufacturers smart home products. Save this great article by the Wall Street Journal for further reading.
Apple technology running on iOS operating systems utilizes Suri for voice search results.  Like Google and Alexa, Suri is used to find what people are looking for with voice commands on any of their Apple smart devices.  
"Around 500 million people are using Siri. Despite a few drawbacks, such as the limited voice application or voice control Siri has, Siri remains one of the most popular voice assistants worldwide, alongside Google Assistant." ("Voice Search Statistics: Smart Speakers, Voice Assistants …") SERP Watch IO  
Unlike Google, Siri requires that the user connect to an Apple product. Users must have the Apple operating system. 
Like Apple's Siri, Cortana is the voice operated assistant on the Windows operating platform. While Cortana is the least used Voice Search platform it should not be overlooked in 2022. Still, many business users utilize Microsoft Products for work. 
Learn more about Cortana HERE.  
Why is Voice Search
So Important in 2022
It is estimated that one-third of the U.S. population used a voice search at least monthly last year. Beyond the U.S. borders, 27% of the global population is using voice search. Impressively,  62% of people will make purchases through voice search in the next month.  These impressive numbers will only continue to grow as more of us are multitasking at work, in the car and at home. When you are developing content for your website do not just focus your attention on keywords. Instead, try  catering your digital marketing efforts to phrases we use every day. 
Key Takeaways
from Voice Search
Make sure you identify products and services your company provides. 

 

Use defined keywords and phrases 

 

Always consider writing phrases using natural speech

 

Solve problems for your customers with the answers they are looking for. 

 

Stop thinking about AI as a robot and more like your perfect customer. 

 

Incorporate voice search into your digital marketing strategy  

 
Need more help with ideas on implementing Voice Search into your marketing strategy? Contact us 
FURTHER READING ON HOT TECHNOLOGY TRENDS FOR 2022
Content Marketing -Hot Technology Trends 2022
Artificial Intelligence – Hot Technology Trends 2022
Hybrid Events – Hot Technology Trends 2022