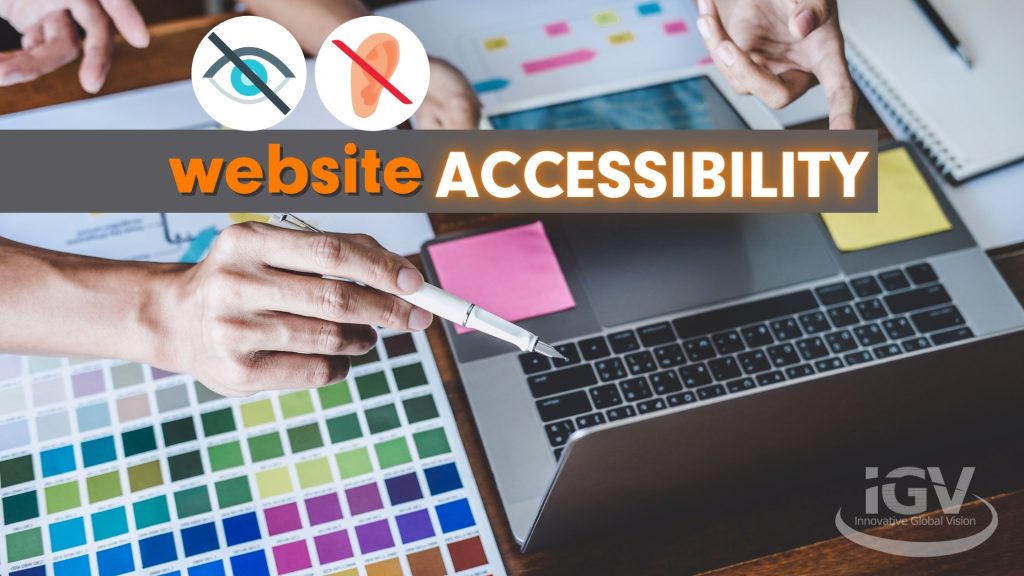 Website Accessibility is an important topic today. We are going to explain why your website should be designed with ADA compliance in mind. Everyone should want their information to be accessible. With ADA compliance your website gives individuals the access to products and services regardless of their impairment. For those with physical and visual disabilities, you are empowering convenience access to your website.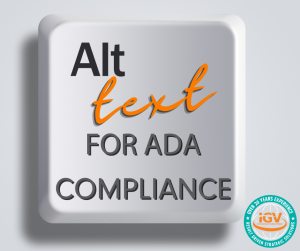 Making some simple changes can be a game changer.
How Do ALT Tags Make Websites More Accessible?
Alt tags is a text addition for images that describe the image being used on a website, in an article, or on social media. The ALT text adds a text description to an image on a Web page, and should be used for all images, graphical bullets, and graphical horizontal rules.
ALT text is accessed by screen reader users to provide them with a text equivalent of images. In visual browsers such as Firefox, the ALT text is displayed when an image is broken, or when all images have been disabled.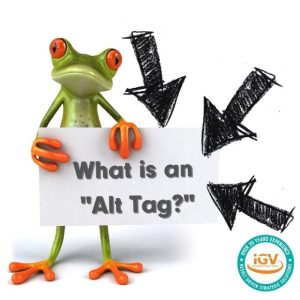 What should be included in an alt tag?
Established industry best practice includes using the keywords as part of the description. It is also important to describe the image itself. What makes the image relevant to the content? When you can tie the alt tag information into the image that is good for your SEO.
ADA compliant images provides a good user experience for all your website visitors. For example, look at this picture to the right. What do you think the alt tag should be for this image? The title of the alt tag should read: "Iggy the frog holding a sign that says "What is an Alt Tag" with arrows pointing to it."
Adding Captions to your Videos for accessibility
Depending on where your video content is developed, you have a few options to add closed captions to your video files.
Adobe Suites Premier Pro – You can add closed captions to your content when you are editing video in Premier Pro simply go to:

Select File > New > Captions.

Click the New Item button at the bottom of the Project Panel and select Captions from the pop-up list.

YouTube – with YouTube Studio you can select to add captions when you upload your video to their platform.

Add subtitles and captions

Sign into YouTube Studio.

From the left menu, select Subtitles.

Click the video that you'd like to edit.

Click ADD LANGUAGE and select your language.

Under subtitles, click ADD.

Wistia – Like the other video platforms you can now add closed captions to your videos directly on their platform.

Then select the Customize Panel

This will turn on cations for your media file

Vimeo – This platform made it a little bit more difficult to add closed captions to video, but you can still do it.

Navigate to your video manager and open the desired video.

Select the Advanced option on the right side of the video to access additional video settings.

Go to Distribution > Subtitles.

Click the "+" button, then specify the language and file type.

Click Choose File and upload the file from your computer.

Once the file is uploaded, you'll need to toggle it on to activate it. To replace, delete, download, or edit the file, click on the three dots next to the file name and select the corresponding option from the menu.
In addition to adding closed captions to new video uploads you can also use a third-party provider to add them for you.
How to identify colors that are website accessible.
Did you know you can test the colors on your website for accessibility? The contrast between the text and the text background is a concern for those who are colorblind. Contrast will also affect those that are visually impaired. We recommend that you test your digital brand colors in this free tool from Adobe
https://color.adobe.com/create/color-contrast-analyzer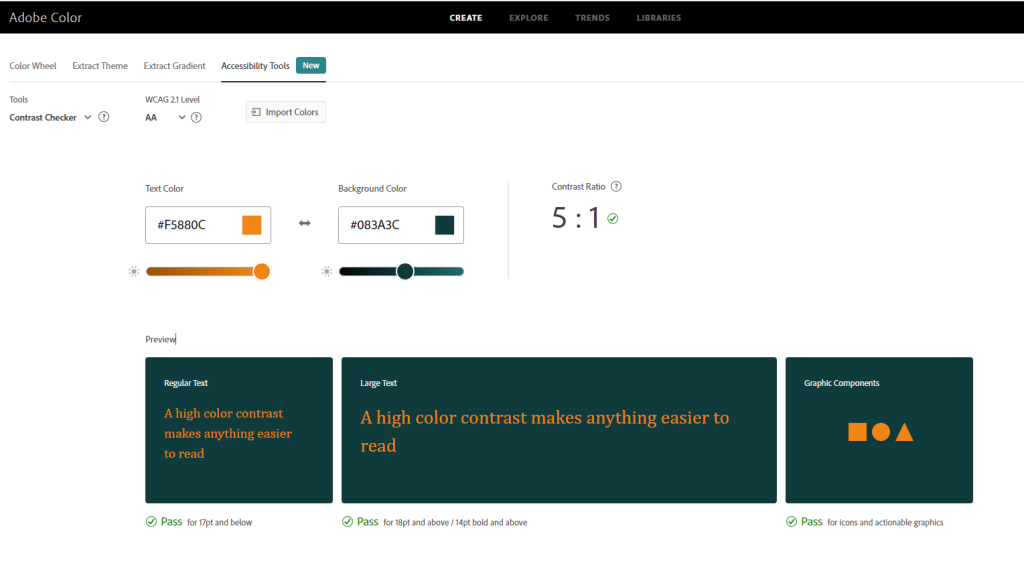 Make Sure You Use Header Tags Hierarchically.
Web pages all have "header tags" in the code of a website. It is one of the ways that Google crawls your websites content. Based on the headers in an article, Google will then understand when and where your page should show up in the search engines. You can only have one <H1> tag as your title, but you can use <H2>, <H3> , <H4> and so on within each article.
The key here is that WCAG requires that heading levels be in a hierarchical order. Like with an outline, you can't skip levels. So do not jump from an <h2> tag and follow it up with an <h5> tag in your content.

Does WORDPRESS have a Plugin for ADA Compliance?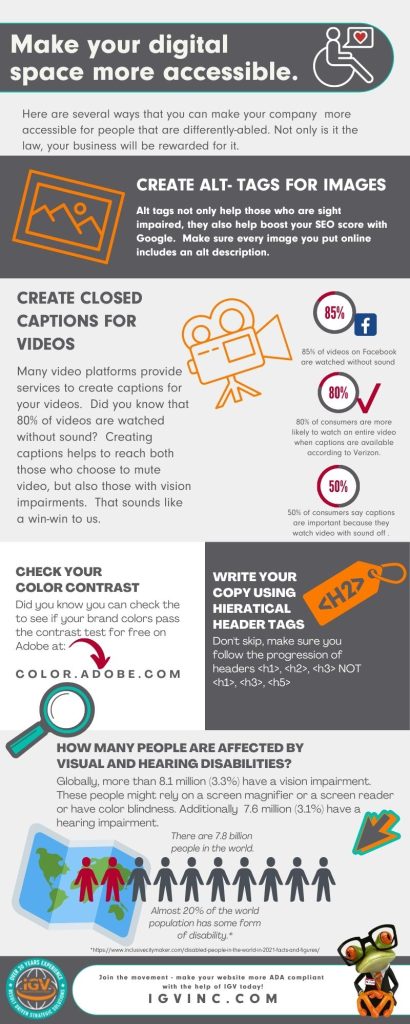 As a platform WordPress has worked very hard to make the CMS of their platform ADA compliant. They work closely with the Web Content Accessibility Guidelines (WCAG) which we mentioned in this article previously. The entire CMS is customizable with individual plugins that have various levels of compliance.
WordPress itself does not have a ADA compliance plugin, but they recommend WAVE, which is a free tool for testing website accessibility. It is a great alternative to using a plugin to test the site internally. IGV uses WAVE when assessing website accessibility and encourages you to run a scan on your own site using this free tool.
Is ADA Compliance Required for Websites in 2022?
When you make your website ADA-friendly, you can reach even more customers. This gives you an edge over competitors that might not have adapted ADA compliance to their digital spaces.
More importantly It is the law. Today your business risks a lawsuit for not adapting to ADA compliance laws. Lawsuits have already started to hit many businesses including retailers, the healthcare industry, restaurants, and even the federal government itself.
"Back in the '90s, the U.S. Department of Justice wrote an opinion that the ADA applies to websites. They reaffirmed that opinion in 2018 in light of the many lawsuits that were being filed against businesses whose websites were not ADA compliant."

–Zen Business
If your business has a website, you are now under the obligation of doing everything you can to be accessible to anyone with visual or hearing impairment. Instead of resisting ADA regulations your business should strive to embrace them.
Conclusion:
Developing a website for ADA compliance is truly a big undertaking. While plugins can help you achieve some WordPress ADA compliance, they do not solve the over 400+ compatibility issues detected on websites. To truly achieve complete compliance, you may need to hire third party service that specializes in ADA compliance and helps you to make all necessary corrections.
IGV can help Contact us to get started.