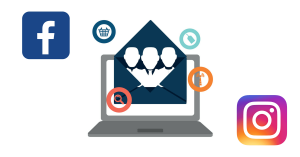 It's no secret today that people practically live on their mobile devices.
The average person in the US spends three hours a day (give or take) on their phone, and 87% of that time is spent in apps like Facebook or Youtube.
The mobile landscape can make it challenging for marketers to reach potential customers and capture leads. Why? Because typing in their info is really annoying and frustrating on their phone. The mobile experience with lead forms usually stink and people give up.
So What's The Fix?
Running a lead ad is an AWESOME and super easy way to build your email list and connect with people who want to be your customer.
Whether it's to sign up for a newsletter, sign up for an event, request more information, or get a special offer/coupon, lead ads make the sign-up process easier and faster for potential customers to reach you.
What Are Lead Ads?
They're an ad format that allow potential customers to make that first connection with your business by submitting a simple form requesting their contact information in exchange for more information on what your business has to offer them.
A lead ad looks like a regular Facebook ad, but when they click on the link, they're taken to a form that's already populated with contact information they've given to Facebook – name, email, or phone number. It's designed to require as little typing as possible.
This is a super easy method not only for you to collect and follow up with leads, but most importantly – it's easy for customers to give you their information.
Lead ads make it super easy for potential customers to give you their info so you can collect more leads
Click To Tweet
Post Your Lead Ad To Instagram
Facebook just rolled out a new feature to the lead ad format allowing you to seamlessly post your lead ad to Instagram at the same time! How awesome is that!? Thanks, Facebook!
Watch the video below to see lead ads in action. Learn step-by-step how to create your own lead ad.