Website Design
Website Design & Development – Cleveland, Akron, Canton Ohio
We at IGV, know web design is about much more than throwing words down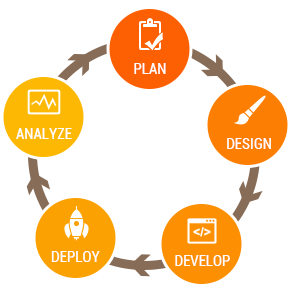 on a page and adding some images. Web development requires careful consideration about how the layout and flow of the page will affect visitors and encourage them to convert into customers. It involves providing customers with the highest quality content and communicating to them exactly why they need to do business with this particular company. We will work with you to develop the perfect mobile responsive website or eCommerce website to attract customers, all at an affordable price. Our five step process will get you the desired results and propel your company forward.
Step 1: Strategic Website Planning
We will sit down with you to get all the necessary information about your type of business, your consumer base, and what you are looking to accomplish with your new website. Read more
Step 2: Creative Website Design
Our professionals will expertly employ the latest in design techniques to create websites that encompass all that the internet has to offer. ... Read more
Step 3: Responsive Website Development
Once the design has been completed, our experienced programmers will develop the code necessary to make your website come to life. Using the best practice coding standards, we will secure your site while making it easy for your customers to view and use the site on a wide range of platforms. Read more
Step 4: Quality Assurance
Before launching the site, we test for any bugs or possible performance problems. We then turn it over to you to make sure you are completely satisfied before it goes live.
Step 5: On-goinging Monitoring
Through programs such as our website analytics, we keep track of customers' use of the site and help you determine new ways to improve your conversion rate and maximize the customer experience online. We can study the website, page by page, to see how visitors respond.  Read more