Online privacy is a growing concern. In the past five years, data-privacy focused laws have pushed websites and social media platforms to be transparent with what they do with users' data. These laws have also highlighted awareness to consumers who did not know what information was collected or where it was going.
In 2018, the UK's General Data Protection Regulation went into effect. The GDPR is a European Union (EU) law that protects how an individual's personal information is gathered, stored, and used. Recently, the California Consumer Policy Act prompted numerous businesses to update their privacy policies. The CCPA protects the privacy rights of California residents.
With consumer privacy trending, it is important for small businesses to update their website privacy policies. Doing so will add a measure of protection against legal threats but also serve as good customer service and business practice.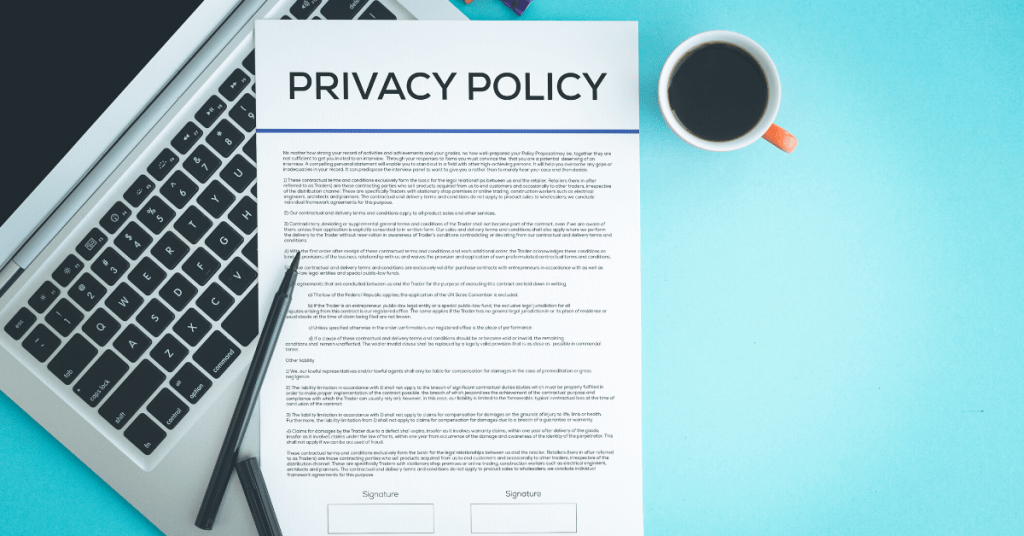 What does a privacy policy need to include?
A privacy policy informs your website visitor what information you collect from them and what you do with that information. This information may include their location, age, web browsing behavior, linked third-party accounts, and a host of other personal information. A privacy policy would specify if you are collecting information for Facebook ads, email marketers, or selling the information to third-party companies.
Every website should include a privacy policy. For one, you must comply with any data privacy law like the GDPR or CCPA; they require an option for your website visitors to know how and what personal data you collect. Even simply tracking website visits and location demographics such as with Google Analytics is a collection of personal data. If you use a Facebook pixel for social media advertisements, this is also data collection.
Why update my Privacy Policy even if I don't have customers in Europe or California?
Each of the privacy laws mentioned in the outset has specific criteria that make businesses susceptible to the law or not. For example, the GDPR applies to any business the collects or processes data of EU residents or provides paid or non-paid goods and services to EU residents. One criterion for the CCPA is that the business receives or shares personal info of 50,000 or more California residents.
If a business does not meet the law's criteria, they may feel it's not necessary to comply. However, it is good business practice to let your audience know what data you are collecting, where it is stored, who will have access to it, and how you use it. Make it a habit to be respectful of your customers' personal information. Demonstrate transparency, honesty, and ethics in every facet of your business.
Updating your privacy policies also prepares for growth and expansion. As your business grows, you may expand to international services in Europe, or your customer base in California could increase. By implementing a quality privacy policy in place now, the transition will be smoother.
Furthermore, pay close attention to each privacy law's criteria. Even if you're a small business, the CCPA could apply to you if you 50,000 website visitors from California or on your email list. Many states in the US are working toward data privacy laws. Will you be ready for such changes or scrambling to comply?
By giving attention to your website privacy policy, you can avoid fines and guarantee exemplary business practice.
If you would like us to audit your website, need help revising your privacy policy, or if you have any additional questions, please contact us at:
Phone: (330)-425-0922
Email: sales@igvinc.com