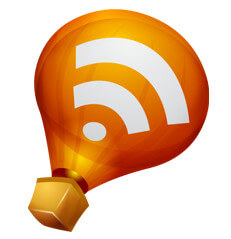 In your wanderings through the internet, you've come across some fun or informational blogs that you enjoy keeping up with.  If you're like I was until recently, that means you go through your "Blogs" bookmark folder in your browser and check each website every couple of days to see if they've updated yet.  How tedious!  Many of you have seen the little RSS widgets at the bottom of your favorite blogs, but what do you do with them?  What IS RSS and what's so great about it?
The abbreviation "RSS" has gone through several incarnations, but the most recent acronym is "Really Simple Syndication".  RSS-capable web pages are programmed using XML, and are designed to send out notifications when the content of that page has been updated or modified.  What this means to you is that, once you've subscribed to that page, your RSS Reader automatically sees the new content when a blog is updated.   No more time wasted clicking through site after site to see if someoneout there has posted new content yet!
"How do I get in on this whole 'reader' thing" you ask?  RSS readers are EVERYWHERE.  Pick your favorite blog and go to its web page; I will briefly describe subscription methods for a few of the big readers, then let you explore the wonderful world of RSS on your own.

METHOD 1:  Microsoft Outlook
Those of us stuck in the office all day frequently rely on Microsoft Outlook for our email communications, calendars, etc.  Why not use that same versatile tool to keep up with your favorite blogs?  Here's how:
–          While in Outlook, click the File tab
–          Click Account Settings, then Account Settings again
–          Click the "RSS Feeds" tab
–          Click "New"
–          There are two ways to get the information the "New RSS Feed" box is asking for: copy the URL (web address) of your blog page and paste it in the box, or right-click on your blog's RSS button (if it has one), select  "copy link address", then paste the info into the box in Outlook.
–          Click "Add"
–          Your newly-subscribed blog should show up in the Feed Name box.  Success!
Now go to your email "Home" tab.  On the left-hand side, in the scrollable menu that displays all your email folders, you should see a folder with the little orange RSS symbol on it labled "RSS Feeds".  Use the little arrow to expand the folder and view all the blogs you're subscribed to!  You can even access your bolg feeds when you log into your webmail (accessing your Outlook from the internet).

METHOD 2:  IE & Firefox
Internet Explorer and Firefox both have RSS readers built into the browsers.  How handy!  The only downside is that your feeds will be stuck on whatever computer you subscribed on (for instance, your computer at work), unless you subscribe again using your browser on, say, your home computer.
In Internet Explorer:
–          Left-click on the orange RSS Feed button on your blog's webpage.
–          A new tab will open.  In a yellow box at the top of this new page, there is a link that says "Subscribe to this feed".  Click it.
–          A sub-window will pop up asking where you would like to put the subscription link.  By default, it will be placed in your Favorites (accessed by the little star in the top right corner of the IE browser window) in the Feeds tab.  If you're fine with that, click subscribe.
–          Click the afore-mentioned little star in the top right corner of the browser window.   Click the Feeds tab.  You should see your blog link!  Success!
In Firefox:
–          Left-click on the orange RSS Feed button on your blog's webpage.
–          A new tab will open asking you how you would like to subscribe to the feed.  The default setting is "Live Bookmarks"; leave it at that.
–          Click "Subscribe now"
–          You will see a new bookmark icon appear in your bookmarks toolbar with the title of the blog you just subscribed to.  When you click on the bookmark, it will give you a list of the most recent articles on that blog.  Click on the one you want to read, and off you go!

METHOD 3: RSS Reader Websites
There are simply oodles of RSS reader websites.  Some are free, some are paid services; two of the most highly-recommended free readers that we have seen mentioned over and over again are Bloglines.com and Reader.Google.com.  From our experience and by many other accounts, these sites are easy to use and include some nice features.
Regardless of which external reader website you chose to go with, the benefit is that you will have access to your blog feeds day and night, no matter where you are.  Once you've created your account on the reader website of your choice, simply log in from whatever computer you happen to be in front of when that urge to read hits.
All you need once you've created an account on a RSS reader website are the URLs (web addresses) of your favorite blogs.  Your reader site will have an area for you to enter a feed address (right-click on those orange RSS buttons!) or website URL.  The reader will then keep track of your blogs for you, showing you when someone has updated.
Happy reading!